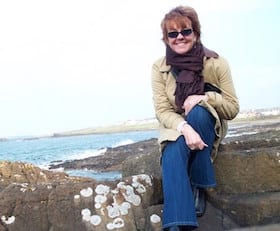 Name : Erin Therese Thiele
Passions : the Lord, family & ministry
favorite cities : Cape Town, Boston, Hong Kong, Edinburg
Favorite Subjects : the Lord, scripture,
my children & grandchildren, and writing
favorite verse : Luke 1:37
"For nothing will be impossible with God.''
Hi, I'm Erin Thiele, author, motivational speaker, the founder of Restore Ministries International.
I am also the mother of seven children— 5 of whom are married, which means I have 4 new "children" I didn't even have to give birth to, lol. And these four couples have blessed me, so far, with my 9 grandchildren.
God has seen fit to use me to encourage and motivate hundreds of women through my books. What makes my books so special is how He led me to write with the distinctive style of using the Bible, His Word, to minister to and heal the brokenhearted. It's not what I say, but what He says that has the ability to change lives!
Yet my main focus is to encourage ALL women (and men) to seek the Lord in an intimate and passionate way to allow HIM to restore each life just as He has and IS continually restoring mine! I want to share with you how you, too, can overcome every crisis through these means.
My Restoration Journey and ministry began when my husband left me for another woman and divorced me in 1989. Since then I have been "blessed" to go through many various and difficult valleys, but each allowed me to know Him that much more!! My Restoration Journey, and yours too, will continue to the day we each meet our Beloved face-to-face—but for now, for today, I want everyone to know that they were destined to not have to travel this journey alone.
What I want to share with you is that in the moment I thought I LOST my life, is when I FOUND it—by becoming the Lord's bride.
"For whoever wishes to save his life will lose it; but whoever loses his life for My sake will find it"—Matthew 16:25