$14.99
 ✓ FREE Shipping 
---


🌱 With each Encouraging Bookstore purchase, you are investing in other countries around the world where we sow paperback books using ALL our profits, after we tithe. PLEASE READ MORE>>
For you who are PARTNERS, enjoy a deep discount with all wholesale paperback books.
Not a partner, find out more.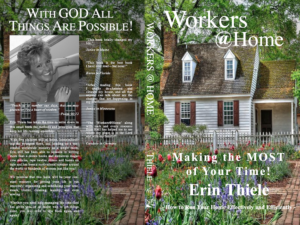 WITH GOD ALL THINGS ARE POSSIBLE!

"Teach us to number our days, that we may present to You a heart of wisdom."
—Psalm 90:12
Erin Thiele has taken the time to write down in this small book the methods and principles that keep her life running smoothly.
With five children still at home, homeschooling the youngest three, and heading up a successful worldwide ministry as a single mom, Erin still has been able to squeeze in writing more than a dozen books and numerous magazine articles, tape twelve videos, and books on tape and has been a motivational speaker around the world to hundreds of women just like you!
We promise that this book will be your constant resource for getting your life to run smoothly: organizing and scheduling your time, meals, clutter, cleaning, laundry, and even sewing.
Whether you need help managing the time God has given you, or an easier way to get things done, you will refer to this book again and again!
"This book totally changed my life."
Janice in Maine
"This book is the best book
I have ever read—bar none!"
Karen in Florida
"After reading this book
I totally de-cluttered and cleaned my house, and all that anyone can talk about are the changes that are happening in my life!"
Janice in Minnesota
"The 'Workers@Home' along with each and every resource from RMI has helped me to see where my place is in the Lord and with my family!"
Candace in Germany
Workers@Home: Making the MOST of Your Time!
Average rating:
2 reviews
Jan 26, 2021
Thank you, Erin, for the Workers@Home book ˜ it has revolutionized my life. I am preparing for a "homecoming" with my husband by preparing meal plans for each month. I also did a "clean sweep" of my storage unit, using the note card system, and now I feel like a caged bird who has been set free! I cannot explain how messy and sloppy I was before  another major source of contention. I have since realized how wrong I was and how important a clean home is to my husband. I give all the glory to God for changing my ways!

Thank you, Erin, the Thiele family, and all those involved in Restore Ministries, for your prayers and your wonderful resources. Thank You, Lord, for Your goodness and mercy to me, and for giving me contentment when it seemed impossible to find. Amen!
Apr 26, 2017
I recently received my paperback copy of "Workers @Home" and got to the section about decluttering. Not a coincidence that God has been speaking to me about "stripping off the weight that slows me down" and that I will never get to my destiny should I not die to the things of this world. Not a coincidence that as I'm watching a program and one of the lines that spoke so vividly to me was, "Downsize-Purify-Streamline."

Hebrews 12:1 "Therefore, since we are surrounded by such a huge crowd of witnesses to the life of faith, let us strip off every weight that slows us down, especially the sin that so easily trips us up. And let us run with endurance the race God has set before us."

That evening, I decluttered my closet and WOW, how much stuff I had accumulated. Yikes! It was such an awesome feeling that I moved on to my daughters room and we made a game of it. We then bagged up all our "valuables" and donated them to a local church. We are slowly applying the "declutter" principle to each room in our home and I feel a burden lifted with each room complete.

As a kid, I was not taught to cook or clean. One would think that having to grow up at 14 years old, that all of this cooking and cleaning business would eventually happen. It didn't. I went into survival mode, got a job to take of my baby, laced up my bootstraps and just kept going. Today, God tells me He never left me. He took me back to the delivery room where I was in extreme birth pains and so very afraid of how I would care for this baby. And He healed me of the deception from the enemy, "just keep going - YOU can do this, you don't need ANYONE."

As a result of this, I am allowing myself to FEEL and process all of the feelings that I stuffed for so long because I had to keep going, "I didn't need anyone." WRONG!!! I need my HH. He is helping me to understand the difference between my moments of pain, my moments of disappointment, my moments of joy and I'm gaining freedom from bondage!! I am exactly where I need to be on this journey and the timing is PERFECT. Of course it is, my heavenly Husband steers the wheel and knows what I can and can't handle. I NEED HIM AND HIM ALONE! As a result of decluttering, my Bible falls open to Ezra 3 which by the way, I had never even heard of this book in the Bible. As I read this chapter, God confirms to me, "the foundation has been rebuilt." I shouted and cried tears of JOY! This is real, all of it! I have become better than ok. I will get there!! I will get there with Jesus and we will exchange the BEST high five over the victories that only we could have done together!