$14.99
✓ FREE Shipping
---


🌱 With each Encouraging Bookstore purchase, you are investing in other countries around the world where we sow paperback books using ALL our profits, after we tithe. PLEASE READ MORE>>
Frequently Bought Together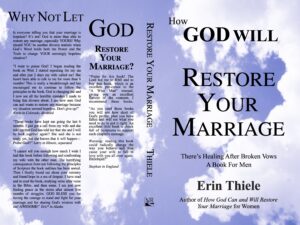 Have you been searching for marriage help? It's not by chance, nor is it by coincidence, that you are reading this book. God has heard your cry for help in your marriage dilemma. He predestined this DIVINE APPOINTMENT to give you the hope that you so desperately need right now! If you have been told that your marriage is hopeless or that without your spouse's help your marriage cannot be restored, then this is the book you need!
"I want to praise God! I began reading the book on Wed. I started repenting for my sin and after just 2 days my wife called me! She hasn't been able to talk to me for more than 6 months! This is really a breakthrough and has encouraged me to continue to follow the principles in the book. God is changing me and I now see all the horrible mistakes I made to bring this divorce about. I am now sure God can and wants to restore any marriage because my situation seemed hopeless. Don't give up!" Kevin in Colorado, divorced.
"These books have kept me going the last 6 months. I just got a call from my wife and she told me that God has told her that she and I will be back together again!! She said she is not ready yet, but she knows that it will happen— Praise God!!" Larry in Illinois, separated.
"I cannot tell you enough how much I wish I had this book before following and confronting my wife with the other man. The horrifying consequences from not following the principles of Scripture the book outlines has been unreal. Then I finally found out about your ministry and found hope in a sea of despair. I have read and re-read the book, studying verse after verse in the Bible, and then some. I am just now finding peace in the storm after almost five months of struggles. GOD BLESS you for having the courage to stand and fight for your marriage and for sharing God's wisdom with me! AWESOME!" Eric* in Alaska
How God Will Restore Your Marriage
Average rating:
1 reviews
Nov 20, 2021
Thank you to all who have shared their testimonies of restored marriages.
Take the time to read all the testimonies they will be an encouragement to you and others. As you walk through this you will become encouraged and challenged to grow in the Lord in ways you never thought possible.

First I was ready to throw in the towel and move on in my life and find myself in another relationship and probably in a second marriage. The divorce has gone through, but I am encouraged to know that God can and wants to restore and heal. My faith has grown and I have written down scripture on my 3X5 which help me to stay in the Word daily.