$5
✓ Instant Delivery
---

For you who are PARTNERS, don't forget this eBook, like all our eBooks are FREE for you. Also enjoy a deep discount with all wholesale paperback books.
Not a partner, find out more.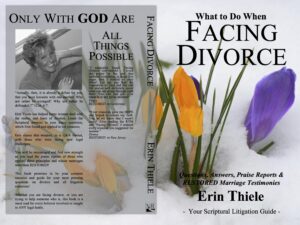 Dear Beloved Brother or Sister in Christ, 
Many people have written to our ministry when facing divorce. So many continue to call and write our ministry DESPERATE for help. To be ready to help the masses of people who come, often in a panic, I have compiled many of our resources together in this book. 
If you come to something you have read before, read it again. The more you "renew your mind" the more you will replace the lies of the world with the faith in your Lord. The more faith, the more the fear you are experiencing will fade away. And what will remain will be the "peace that passes ALL understanding"!
In addition, NEVER skip reading the Scripture verses, even if you do know them by heart. The verses will do something wonderful to your spirit. There is a "washing of water with the word" that will cleanse your mind, soul and spirit. It will put out the fire of fear. Begin by reading this: 
"By wisdom a house is built, And by understanding it is established 
And by knowledge the rooms are filled 
With all precious and pleasant riches." 
Prov. 24:3-4 
Through this book, I believe that you will gain the wisdom, understanding and knowledge you will need to do "the right thing" and release your attorney. 
"Trust in the LORD with all your heart, 
And do not lean on your own understanding. 
In all your ways acknowledge Him, 
And He will make your paths straight." 
Prov. 3:5-6 
The wisdom gained by reading this book, ESPECIALLY the Scripture verses, will help you to know "what" to do. The understanding comes AFTER you have obeyed; the knowledge helps you with discernment knowing how to handle the next crisis and how to help guide others...
Facing Divorce
Average rating:
0 reviews