$17.99
✓ FREE Shipping
---


🌱

With each Encouraging Bookstore purchase, you are investing in other countries around the world where we sow paperback books using

ALL our profits, after we tithe

.

PLEASE

READ MORE>>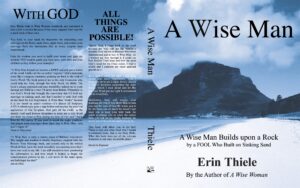 Your marriage is in trouble for one reason, you built it on sinking sand— the world's opinions—NOT on God's Word!
REBUILD your life, your family and your home on the Rock!
Gain the wisdom you need to build your house and, gain the wisdom YOU need to guide you (and soon, your wife and your children as they follow your example)!
"A Wise Man helped me become a DOER and not just a hearer of the word. Unlike all the so-called "experts," Erin's materials acted like a compass constantly pointing me back to the truth of God's Word. The book pointed me to the only Counselor who could help me: God, through His Holy Word, the Bible. The book's unique approach and easy readability helped me to work through my Bible in a way I'd never done before. Ultimately it, was God's Word that brought the conviction that I'd built my marriage on sinking sand, and that I needed to seek God with all my heart for His forgiveness. A Wise Man "works" because it is not based on man's wisdom—it's almost all Scripture, AND it refreshingly goes a step further and teaches the practical application of that Scripture. God gets all the credit, as He should. God used Restore Ministries to point me to His Word and draw me closer to Him during my time of trial, and I thank Him for His mercy. If you want to avoid the major problems that plague most marriages these days, buy A Wise Man—you won't regret it!" Dean in Maryland
"A Wise Man is truly a classic piece of Biblical inspiration! The insight and wisdom it clearly dispenses, coupled with the Restore Your Marriage book, and second only to the written Word of God, were the most incredibly eye-opening texts that I have ever read in my life. I am still amazed at how penetrating the information is, and how much it helped to begin the transformation process in me. I will never be the same again, and hallelujah for that!" Jim in Ohio.
A Wise Man
Average rating:
0 reviews