$14.99
 ✓ FREE Shipping 
---


🌱 With each Encouraging Bookstore purchase, you are investing in other countries around the world where we sow paperback books using ALL our profits, after we tithe. PLEASE READ MORE>>
For you who are PARTNERS, enjoy a deep discount with all wholesale paperback books.
Not a partner, find out more.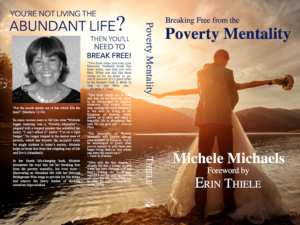 YOU'RE NOT LIVING THE ABUNDANT LIFE? THEN YOU'LL NEED TO BREAK FREE!
"For the mouth speaks out of that which fills the heart" (Matthew 12:34).
So many women seem to fall into what *Michele began realizing was a "Poverty Mentality"—plagued with a warped mindset that solidified the belief, "I can't afford it" and/or "I'm on a tight budget." No longer trapped in the mental state of poverty, which has become the accepted norm for single mothers in today's society, Michele helps us break free from this crippling way of life and live it Abundantly.
In her fourth life-changing book, Michele documents the road that led her breaking free from the poverty mentality, but even more— discovering an Abundant life with her Beloved Bridegroom Who longs to provide for His brides and remove the heavy burden of thinking ourselves impoverished.
"This book helps you trust your Heavenly Husband, break free from worry, and find rest with Him. When you feel like there seems to be no place to go, you'll discover it's a good place to be because God is about to step in and bless you." ~ Amanda in Texas
"This book taught me to trust and wait for my Beloved, never to be discouraged by negative situations. You simply cannot stop reading this book because it is the door to living in the Kingdom of Heaven, which allows us to enter and enjoy a beautiful life in abundance that only He can give us!" ~ Ziva in Peru
"The principles in Poverty Mentality will forever change your mindset on finances. You'll be encouraged to guard what you've learned in your heart and begin living them so that others can learn the secret too!!" ~ Tara in Arizona
"After only the first chapter, I already felt like a bucket of cold water has been dumped over my face:) waking me to a new reality! I am so very excited to see what the rest of the book has in store for me!" ~ Yvonne in South Africa
The Poverty Mentality
Average rating:
0 reviews