🌱 Przy każdym zakupie w Zachęcającej księgarni inwestujesz w innych krajach na całym świecie, w których zasiewamy książki, wykorzystując WSZYSTKIE nasze zyski po oddaniu dziesięciny. PROSIMY PRZECZYTAJ WIĘCEJ>>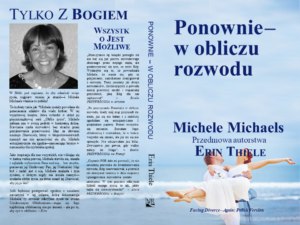 To zarówno ekscytujące, jak i satysfakcjonujące, gdy ta książka w końcu staje się rzeczywistością. Michele i ja miałyśmy długą, cudowną przyjaźń od lat, wkrótce po tym, jak pomogła mi w redagowaniu i korekcie naszych książek RMI. Nasza współpraca przerodziła się w prawdziwy podziw dla Michele, co teraz doprowadziło do zaszczytu napisania przedmowy do jej pierwszej powieści prawdziwego życia.
Zauważysz, że udzieliliśmy Michele pozwolenia na wykorzystanie fragmentów innych książek RMI, a także przesłanych świadectw do RMI. Potwierdzają one to, co mówi Michele i jestem pewna, że zarówno zmotywują cię, jak i zachęcą do szukania u Boga mądrości, tak jak ona to zrobiła, a także do uczynienia z Panem twojej najbardziej cennej relacji, jak ona to pokazuje w tej niesamowitej książce.
Nie czytaj tej książki tylko raz, upewnij się, że sięgasz po nią w obliczu jakiegokolwiek sporu sądowego, aby podążać tą wąską ścieżką, która prowadzi do życia - obfitego życia, za które On umarł, aby nam je dać.
Erin Thiele
Restore Ministries International
Ponownie w obliczu rozwodu
Average rating:
0 reviews