🌱 Przy każdym zakupie w Zachęcającej księgarni inwestujesz w innych krajach na całym świecie, w których zasiewamy książki, wykorzystując WSZYSTKIE nasze zyski po oddaniu dziesięciny. PROSIMY PRZECZYTAJ WIĘCEJ>>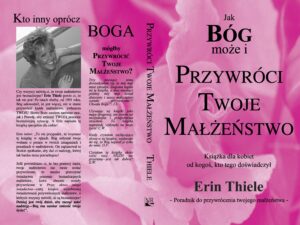 Czy wszyscy mówią ci, że twoje małżeństwo jest beznadziejne? Erin Thiele powie ci, że tak nie jest! Po latach służby, od 1991 roku, Bóg udowodnił, że jest więcej, niż w stanie przywrócić każde małżeństwo, zwłaszcza TWOJE! Słowo Boże zawiera zarówno moc, jak i Prawdę, aby zmienić TWOJĄ pozornie beznadziejną sytuację. A Erin napisała tę książkę specjalnie dla ciebie! Erin mówi: "To nie przypadek, że trzymasz tę książkę w rękach. Bóg usłyszał twoje wołanie o pomoc w twoich zmaganiach i porażkach w małżeństwie. On zaplanował to Boskie spotkanie, aby dać ci nadzieję, której tak bardzo teraz potrzebujesz! Jeśli powiedziano ci, że bez pomocy męża, twoje małżeństwo nie może zostać przywrócone, to musisz przeczytać świadectwa pozornie beznadziejnych małżeństw, które obecnie zostały przywrócone w Przez słowo swego świadectwa—całej książce wypełnionej świadectwami przywróconych małżeństw, o których wszyscy mówili, że są beznadziejne! Dzisiaj jest twój dzień, aby zacząć mieć nadzieję—Bóg ma zamiar zmienić twoje życie!".
Trzy miesiące temu dowiedziałam się, że mój mąż mnie zdradza. Znajoma kupiła mi tę książkę, a dwa miesiące później mój mąż został zbawiony i nasze małżeństwo zostało przywrócone!!! Chwała Bogu!!! J.S. Używając tej książki jako mapy drogowej, nie jestem już niespokojna i przepełniona strachem. Ta książka naprawdę wpłynęła na moje życie! C.W. Kiedy czytałam zachęcające słowa w tej książce, wydawało mi się, że Bóg napisał je tylko do mnie. D.F. Czytałam tę książkę około sześć razy. NIGDY nie przestanę—jest tak dobra!! E.W.
Jak BÓG może i przywróci twoje małżeństwo
Average rating:
0 reviews