🌱 Každým nákupom v Encouraging Bookstore investuješ do iných krajín po celom svete, kde zasievame knihy za použitia VŠETKÝCH našich ziskov po tom, ako odvedieme desiatok. PREČÍTAJ SI VIAC >>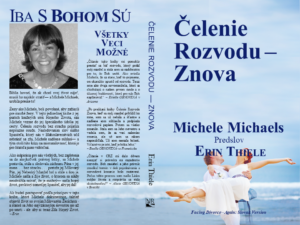 Je nadchýnajúce a obohacujúce vidieť, ako sa táto kniha konečne stala skutočnosťou. Čoskoro potom ako mi Michele pomáhala s úpravami a kontrolami našich RMI kníh, sme mali roky dlhé, nádherné priateľstvo. Náš pracovný vzťah sa vyvinul do skutočného obdivu k Michele, ktorý teraz viedol k pocte napísať tento predslov k jej prvému Románu zo Skutočného Života. 
Všimneš si, že sme Michele dali povolenie použiť časti ďalších RMI kníh a tiež svedectvá, odoslané a zaslané do spoločnosti RMI. Toto potvrdzuje to, čo Michele hovorí, že si je istá, že ťa budú motivovať a povzbudzovať hľadať Boha pre múdrosť tak, ako to robila ona a tiež, aby sa vzťah s Pánom stal tvojím najcennejším a najopatrovanejším vzťahom, ako to ukazuje ona cez túto úžasnú knihu. 
Túto knihu si neprečítaj len raz, určite sa ku nej vráť, keď budeš čeliť akýmkoľvek súdnym sporom, aby si sa pohyboval/a po úzkej ceste, ktorá vedie k životu - k hojnému životu, pre ktorý On zomrel, aby nám dal. 
Erin Thiele Restore Ministries International
Čelenie Rozvodu— Znova
Average rating:
0 reviews