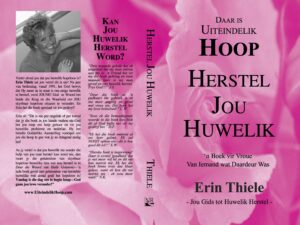 Dit is nie per toeval dat u hierdie boek in u hande hou nie, dit is deur Goddellike Voorsiening. God het u roep om hulp gehoor, net soos hy myne gehoor het en Hy het gekom om u te red. Die bladsye wat volg sal vir u 'n gids wees, net soos Hy vir my gelei het toe ander gesê het dat my situasie hopeloos was.
Wat Hy van my gevra het was nie maklik nie, en dit sal ook nie vir u maklik wees nie. Maar as u 'n wonderwerk in jou lewe wil hê, kan dit gebeur. As u 'n getuienis wil wees aan ander van God se betroubaarheid, sal dit gebeur. As u werklik wil hê dat God 'n huwelik sal herstel wat hopeloos is, dan moet u aanhou lees. God kan en sal u huwelik herstel, net soos Hy myne herstel het.
Die Bybel sê dat "die HERE--sy oë deurloop die hele aarde om diegene kragtig te steun wie se hart onverdeeld op Hom gerig is." (2 Kron. 16:9). Hy het u gesoek om u te help. Is u gereed?
U sal geesdriftige gehoorsaamheid nodig hê. "Gaan in deur die nou poort, want breed is die poort en wyd is die pad wat na die verderf lei, en daar is baie wat daardeur ingaan. Want die poort is nou en die pad is smal wat na die lewe lei, en daar is min wat dit vind." (Matt. 7:13-14). Dit is u keuse: Om die nou poort wat na die hemel toe lei te kies of om nou om te draai en weg te stap.
Dit is nou die tyd om te kies. "Ek neem vandag die hemel en die aarde as getuies teen julle; die lewe en die dood, die seën en die vloek het ek jou voorgehou. Kies dan die lewe, dat jy kan lewe, jy en jou nageslag, deur die HERE jou God lief te hê, na sy stem te luister en Hom aan te hang; want dit is jou lewe en die lengte van jou dae..." (Deut. 30:19-20).
Hoe GOD Jou Huwelik Kan en Sal Herstel
Average rating:
1 reviews
Nov 26, 2022
Wow this book is a must have! God not only want to save you marriage through this book, our Loving Father wants to change people's lives through this book!