$64.99
✓ FREE Shipping
---


🌱

With each Encouraging Bookstore purchase, you are investing in other countries around the world where we sow paperback books using

ALL our profits, after we tithe

.

PLEASE

READ MORE>>
For you who are PARTNERS, enjoy a deep discount with all wholesale paperback books.
Not a partner, find out more.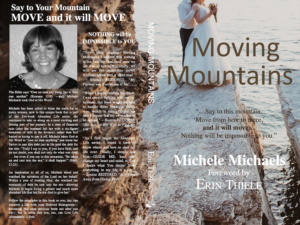 Say to Your Mountain MOVE and it will MOVE for NOTHING will be IMPOSSIBLE to YOU
The Bible says "Owe no man any thing, but to love one another" (Romans 13:8) —and, Michele Michaels took God at His Word!
Michele has been called to blaze the trails for so many women, now in this unique book that is part of her five-book Abundant Life series, she continues to take us along on a most exciting and freeing part of her journey. In a state of financial ruin (after her husband left her with a six-figure mountain of debt in the divorce), rather than feel buried or trying to pay it off, Michele takes God at His Word to "owe no man anything" and trusts her Savior to pay this debt just as He paid the debt for her sins. "Truly I say to you, if you have faith, and do not doubt, you shall not only do what was done . . . but even if you say to this mountain, "Be taken up and cast into the sea," it shall happen'" (Matt. 21:21).
An inspiration to all of us, Michele stood and watched the salvation of the Lord on her behalf. Within a year of trusting Him, she watched her mountain of debt be cast into the sea—allowing Michele to begin living a greater and much more abundant life that her Savior died to give her!
Follow the principles in this book so you, too, can discover a life with your Beloved Bridegroom— becoming His most precious bride not after you die— but in order that you, too, can Live Life Abundantly. ~ Erin
"Now after reading Moving Mountains I believe that nothing is too hard for God. And once we are able to live in this reality, we will see our mountains move! Brilliant series and a must-read." ~ Helena RESTORED "My Partner was Everything to Me"
"When I began reading this book, I was always fighting with my ex-husband, this book taught me how to handle those situations God's way, which in turn changed me into a person that my ex wanted to be around." ~ Beatrix RESTORED "He was on His Way to Find the OW "
"As I first began the Abundant Life series, I found it hard to know where and how to start my life over. Finally, I simply ask Him—GUIDE ME; lead me; change my heart and mind, so that I desire what You desire! Now everything in my life is a joy!" ~ Louisa RESTORED "Just Days Away from Giving Birth"
Moving Mountains
Average rating:
0 reviews