$5
✓ Instant Delivery
---

---
🌱

With each Encouraging Bookstore purchase, you are investing in other countries around the world where we sow paperback books using

ALL our profits, after we tithe

.

PLEASE

READ MORE>>
For you who are PARTNERS, don't forget this eBook, like all our eBooks are FREE for you. Also enjoy a deep discount with all wholesale paperback books.
Not a partner, find out more.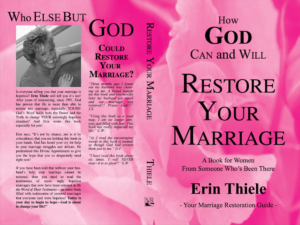 Who Else But God Could Restore Your Marriage?
Is everyone telling you that your marriage is hopeless? Erin Thiele will tell you it's not! After years of ministering, since 1991, God has proven that He is more than able to restore any marriage, especially YOURS! God's Word holds both the Power and the Truth to change YOUR seemingly hopeless situation? And Erin wrote this book especially for you!
Erin says, "It's not by chance, nor is it by coincidence, that you are holding this book in your hands. God has heard your cry for help in your marriage struggles and defeats. He predestined this Divine Appointment to give you the hope that you so desperately need right now!
If you have been told that without your hus- band's help your marriage cannot be restored, then you need to read the testimonies of seem- ingly hopeless marriages that now have been restored in By the Word of Their Testimony— an entire book filled with testimonies of restored marriages that everyone said were hopeless! Today is your day to begin to hope—God is about to change your life!"
"Three months ago I found out my husband was cheat- ing on me. A friend bought me this book and two months later my husband got saved and our marriage was restored!!! Praise God!!!" J.S.
"Using this book as a road map, I am no longer anxious and filled with fear. This book has really impacted my life!" C.W.
"As I read the encouraging words in this book it seemed as though God had written them just to me." D.F.
"I have read this book about six times. I will NEVER stop—it is so good!!" E.W.
Frequently Bought Together
How God Can and Will Restore Your Marriage
Average rating:
3 reviews
Feb 8, 2022
Powerful page am eager to read and be healed physically, emotionally and mentally
Feb 2, 2022
This book is a blessing from God this ministry is a blessing from God I am getting closer day by day to my heavenly husband and even though my former husband remarried I still believe that with God all things are possible this ministry and this book has given me hope it has shown me where I was wrong and what I can do only through Christ to change God is good and he's using this ministry for his glory I highly recommend this book and all of the resources that this ministry has to offer God bless Erin her whole family and everyone who is a part of this ministry the more you get closer to your heavenly husband you don't focus on the problems but God gives you the strength to get through them and I do believe that God can and will restore any marriage
Apr 2, 2021
My marriage separated in Dec 2010. I thought I was dying. a friend gave this book to me in Jan 2011 and I put it to the side and completely forgot about it for 6 wks . I started reading it about 2wks ago and put it aside again for another week because I had trouble accepting my role in this adulterous breakup of my marriage. I did eventually go back to the book and completely read it 3times.

I love all the scripture that not only motivates, cleansed me and given me knowledge. But has given great spiritual growth. In the last week I have stop fighting my husband on all fronts. No lawyer, No child or spousal support and No yelling or accusations. I have learned to be quite. He is testing me all the time and doesn't believe I actually dropped all the cases against him. But already I am sensing a softer person in him as he has in me. It is just a matter of time that we will be recommitted to each other.

I am using this time to grow in the word and continue to build my solid foundation. I must confess I at first didn't think this would work but I now know with the fast changes that I have seen. It is all possible with God. Submit to God's will and let him take the lead.