🌱A cada compra na Livraria Encouraging Bookstore, você está investindo em outros países ao redor do mundo onde semeamos livros impressos usando TODOS os nossos lucros, após dizimarmos. Por favor LEIA MAIS >>
 Ships from United States
Aviso: Compra do livro Impresso via PoloPrinter 
recomendado APENAS para quem mora no Brasil.
---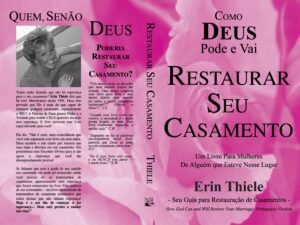 Todos estão dizendo que não há esperança para o seu casamento? Erin Thiele dirá que há sim! Ministrando desde 1991, Deus tem provado que Ele é mais do que capaz de restaurar qualquer casamento, especialmente o SEU! A Palavra de Deus possui Poder e a Verdade para mudar a SUA aparente situação sem esperança. E Erin escreveu esse livro especialmente para você! Ela diz, "Não é sorte, nem coincidência que você está segurando esse livro em suas mãos. Deus escutou o seu choro por socorro nas suas lutas e derrotas em seu casamento. Ele predestinou esse Encontro Divino para te dar agora a esperança que você tão desesperadamente precisa! Se falaram que sem a ajuda de seu marido seu casamento não pode ser restaurado, então você precisa ler os testemunhos de casamentos aparentemente sem esperança que foram restaurados no livro By the Word of Their Testimony—um livro inteiramente de testemunhos de casamentos restaurados que todos diziam que não tinham esperança! Hoje é o seu dia de começar a ter esperança—Deus está prestes a mudar a sua vida!"
Como Deus Pode e Vai Restaurar Seu Casamento
Average rating:
0 reviews