🌱 Przy każdym zakupie w Zachęcającej księgarni inwestujesz w innych krajach na całym świecie, w których zasiewamy książki, wykorzystując WSZYSTKIE nasze zyski po oddaniu dziesięciny. PROSIMY PRZECZYTAJ WIĘCEJ>>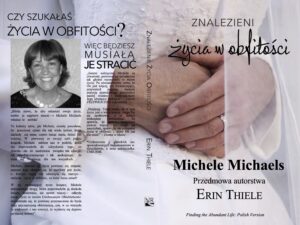 Minęły lata, odkąd ruch feministyczny okradł kobiety z należnych im ról i błogosławieństw związanych z tym, jak Bóg zaprojektował kobiety. Chociaż celem było zapewnienie kobietom takich samych praw, jak mężczyznom, spowodowało to, że kobiety nie miały innego wyboru, jak tylko zostać samotnymi matkami, by zaopatrzyć nie tylko sobie, ale często też ich konkubentów. Kobiety nie uwolniły się od mężczyzn, jak powiedziano, że mają to osiągnąć, ale zamiast tego kobiety mają obsesję na punkcie posiadania mężczyzny, dowolnego mężczyzny, za wszelką cenę. Nic dziwnego, że prorok biblijny powiedział, że nadejdą takie czasy. W Izajasza 4:1 jest napisane: "W tym dniu siedem kobiet uchwyci się jednego mężczyzny, mówiąc: Będziemy jadły swój chleb i ubierały się we własne ubranie, tylko niech zwiemy się twoim imieniem, odejmij od nas hańbę".  
To kobiety takie, jak Michele, zostały powołane, by przecierać szlaki dla tak wielu kobiet, które znalazły się same, często tracąc męża, dzieci lub rodzinę. W pierwszej ze swojej serii pięciu książek, Michele zabiera nas w podróż, która nie doprowadziła do odzyskania tego, co straciła — ale do znalezienia związku tak silnego, tak satysfakcjonującego i tak spokojnego, że stała się inspiracją dla nas wszystkich. 
Wiele z tego, co przeczytałam w tej książce, kiedy była dostępna tylko dla kobiet w jej kościele, używałam do pomocy kobietom w mojej własnej służbie. Każda z nas musi poznać niewypowiedziane prawdy, mądrość i wolność, których Michele doświadczyła i którymi się z nami podzieliła w tej dynamicznej książce dla kobiet.  
Erin Thiele Restore Ministries International 
Znalezienie życia w obfitości
Average rating:
0 reviews