Ships from United States
🌱 Každým nákupom v Encouraging Bookstore investuješ do iných krajín po celom svete, kde zasievame knihy za použitia VŠETKÝCH našich ziskov po tom, ako odvedieme desiatok. PREČÍTAJ SI VIAC >>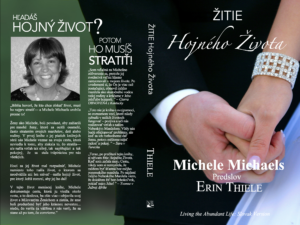 Sú to už roky, čo feministické hnutie okradlo ženy zo svojich právoplatných úloh a požehnaní z toho, ako Boh ženy predurčil. Aj keď bolo cieľom poskytnúť ženám rovnaké práva ako mužom, slúžilo to na to, aby ženy nemali na výber a aby sa stali slobodnými matkami, poskytovali nielen samy seba, ale často aj ich mužské spolužitie. Ženy sa nezbavili mužov, ako sa uvádza, že to bolo stanovené, ale namiesto toho sa ženy stali posadnutými mať muža, akéhokoľvek muža za každú cenu. Neprekvapivo biblický prorok hovoril, že časy, ako tieto prídu. V Izaiášovi 4, 1 Odkaz hovorí: "Sedem žien sa chopí jedného muža v ten deň a povedia: "Svoj chlieb budeme jesť a svoje rúcho obliekať, len tvojím menom nech sa zveme: odstráň našu potupu!"
Sú to ženy ako *Michele, ktoré boli povolané, aby prerazili cestu ženám, ktoré sa čoskoro ocitnú samy, bez manžela, detí alebo rodiny. V tejto sérii piatich kníh nás Michele vezme na cestu, ktorá neviedla k opätovnému získaniu toho, čo stratila, ale k nájdeniu vzťahu tak silného, naplneného a pokojného, že je inšpiráciou pre nás všetky.
Veľa z toho, čo som čítala v tejto knihe, keď bola najskôr k dispozícii iba ženám v jej kostole, som zvykla použiť na pomoc ženám v mojej vlastnej službe. Každá z nás musí zbierať nevyslovené pravdy, múdrosť a slobodu, ktoré Michele zažila a o ktoré sa s nami delí v tejto dynamickej knihe pre ženy.
Je mi cťou nazývať Michele mojou priateľkou a je to vďaka tomu, o čo s nami transparentne podelila v tejto knihe, ktorá nám každej pomôže objaviť, ako sa môžeme povzniesť nad každou situáciou, ktorú nás On volá prekonať.
Erin Thiele Restore Ministries International
Žitie Hojného Života
Average rating:
0 reviews